Details
Reading time: 3 - 6 minutes
For those longing to explore the glorious South Downs landscape of shapely hills, ancient woodland, hidden valleys, spectacular chalk cliffs, and rolling weald farmland, Abingworth Hall is the ideal base. Here's what makes our country house so special.
Some 800 years of history are encapsulated within Abingworth Hall's walls. Parish records reference a Roger of Abingworth in the area as far back as 1231, but this was very much a working farm until the 19th century (the 1861 census citied farmer Edward Upperland as the owner of 'Abingworth Place'). Later converted into a three-storey residence complete with an ornamental lake, it was advertised in 1905 as 'a residential estate with pleasure grounds, agricultural buildings, dwelling house, eight cottages, fertile meadow, arable lands, orchards, and market gardens'.
Following a fire, the house was completely rebuilt in 1910 by new owner, Charles Stanley Peach – an architect most famous for designing the Centre Court stadium at Wimbledon in 1921. He lived at the house with his family and domestic servants and added a one storey wing to accommodate a new dining room and library. In 1913, ownership transferred to Sir Oswald Ernald Mosley, grandfather of notorious fascist Oswald Mosley, and later to Captain Frank Elliot Stobart whose wife, Faith, landscaped the gardens that remain today.  
In 1945, the Abingworth Estate was broken up and the house and seven acres were sold to Mr and Mrs Norris and Miss Madelaine Burton. The remainder was purchased by mushroom-growers, AG Lingfield, and the house renamed Abingworth Hall. The family set about repairing the building after its five years of neglect, adding an outdoor pool in 1969. The last known owners were Phillip and Pauline Bulman who added the conservatory in 1988. The house has been part of our HF Holidays country house line-up since 1994.
Open from February to November and during the festive season, Abingworth Hall has 27 well-appointed guest rooms in two categories (Classic and Premium), a dining room for a range of dishes made with fresh and seasonal ingredients, and three comfortable lounges – the largest of which opens onto an attractive conservatory and a licenced bar.  
There's also a ballroom, books and games to borrow during your stay, a handy boot and drying room, and a Discovery Point offering a wide range of local area maps, route guides, and easy-to-follow information for self-guided walks. Elsewhere, there's eight acres of lovely gardens and an outdoor heated pool (open from May to September).
Whether you're enjoying one of our guided or self-guided walking holidays, there's plenty to see and do within easy travelling distance of Abingworth Hall. Here's some of our favourites:  
Arundel: just a 30-minute drive away, this picturesque West Sussex market town is most famous for two landmarks: Arundel Castle and Arundel Cathedral. A short way from the town centre is the open-air Amberley Museum with over 40 exhibits spread across its 36 acres.  
Arundel Wetlands Centre: a 30-minute drive away, this 60-acre nature reserve run by the Wildfowl and Wetlands Trust provides a protected habitat for swans, geese, ducks, and other beautiful wetland birds. Boat safaris are available, weather permitting.  
Bignor Roman Villa: home to some of the best-preserved Roman mosaics in the UK, this courtyard villa turned visitor attraction is the heart of the South Downs National Park. The land is still farmed by the family of George Tupper, the farmer who discovered the site whilst ploughing in 1811.  
Pulborough Brooks Nature Reserve: just four miles away, this nature-rich area is set in the sheltered Arun Valley within the South Downs National Park. Expect a wide variety of habitats (wetlands, heathland, woodland) as well as some wonderful wildlife viewing. The visitor centre is open year-round.  
Uppark House & Garden: a 50-minute drive away, this 17th century stately National Trust property set within intimate gardens and woodland overlooking the South Downs was lovingly restored following a fire in 1989. Interiors include Grand Tour paintings and a very impressive dolls' house.  
Parham House & Gardens: set at the foot of the South Downs, this Elizabethan mansion was built in 1557. Highlights include the deer park, four-acre walled garden with herbaceous borders, and seven acres of landscaped pleasure grounds.  
Fishbourne Roman Palace: just a couple of miles outside Chichester, Britain's largest residential Roman building was one of the great archaeological discoveries of the 1960s. The palace is most famous for its collection of mosaics, many of which were identified early in the excavation campaign.  
Petworth House & Park: managed by the National Trust, this 17th century mansion set in a 700-acre deer park is a 30-minute drive away. The majestic grounds were designed by Lancelot 'Capability' Brown and include the Ionic Rotunda erected in about 1765.  
Weald & Downland Living Museum: having shot to fame as the filming location of the BBC's The Repair Shop, this open-air museum brings the history of Sussex to life with over 50 historic buildings. One highlight is the working watermill dating from the early 17th century.  
Bluebell Railway: running across 11 miles from Sheffield Park to East Grinstead in Sussex, stopping at Horsted Keynes and Kingscote, the UK's first preserved heritage line is ideal for those who like the romantic thrill of steam travel. Special events are hosted throughout the year.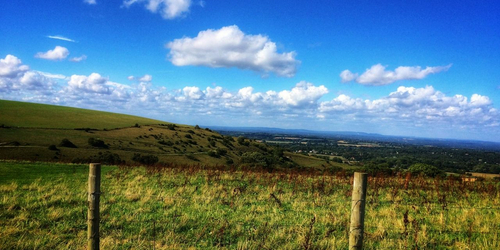 7-night South Downs Guided Walking
Accommodation: Abingworth Hall, South Downs
Departures: Jul 2023 - Mar 2024, 7 nights
Price from: £919pp
Call 020 3974 8865 or click here to book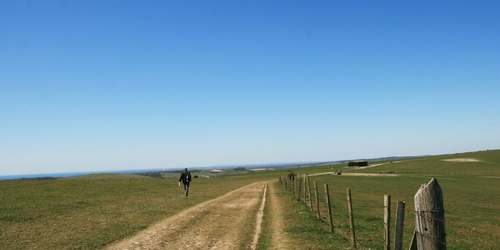 4-night South Downs Self-Guided Walking
Accommodation: Abingworth Hall, South Downs
Departures: Jul 2023 - Mar 2024, 4 nights
Price from: £449pp

Call 020 3974 8865 or click here to book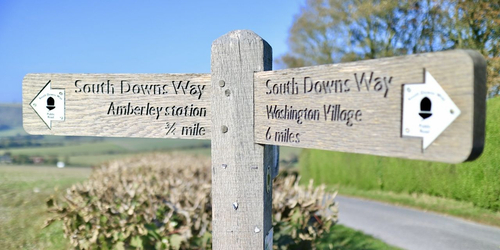 South Downs Way Guided Trail
Accommodation: Abingworth Hall, South Downs
Departures: Oct 2023, 11 nights
Price from: £1,799pp
Call 020 3974 8865 or click here to book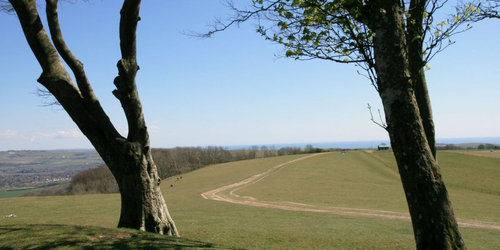 2-night South Downs Tread Lightly Guided Walking
Accommodation: Abingworth Hall, South Downs
Departures: 13 Oct 2023, 2 nights
Price from: £259pp

Call 020 3974 8865 or click here to book