Details
Reading time: 2 - 4 minutes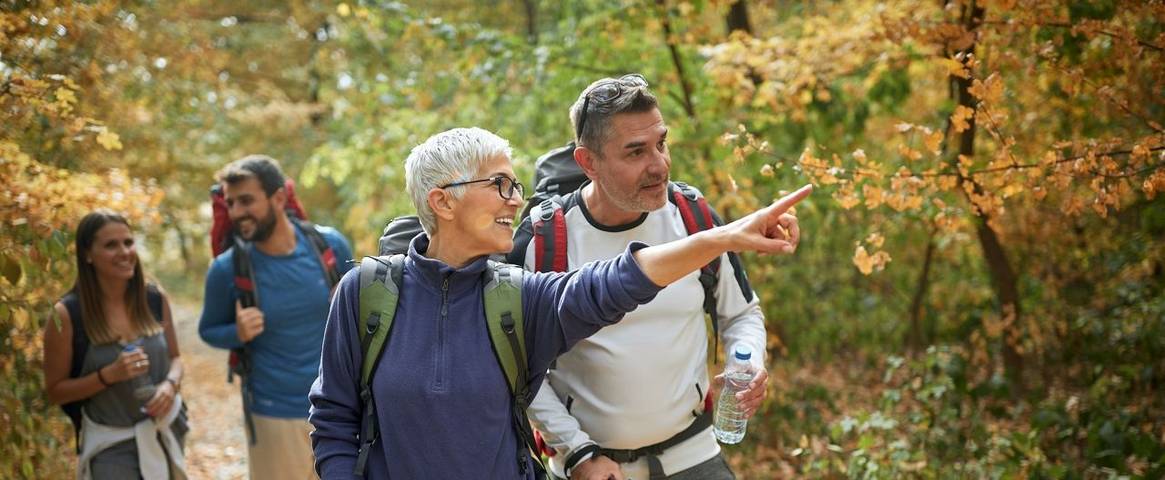 Autumn's arrival not only brings with it crisp mornings, cooler temperatures, and far shorter days, but it also sparks joy for its fiery palette of yellows, oranges, crimsons, purples, and golds. It's also a season of change when it comes to wildlife. Baby grey seals appear on beaches and swathes of migrating birds circle above. We've selected our top eight places for autumn walking. 
Cairngorms, Scottish Highlands
Mountains, forest paths, and rivers in the UK's largest national park
The heart of the Scottish Highlands will keep you captivated when it comes to admiring wildlife in autumn. From fast-flowing rivers bubbling with leaping salmon, red squirrels foraging on the season's treasures, and majestic deer roaming over the valleys, you have plenty to look out for on any walk in the Cairngorms. 
Loch Lomond, Scottish Highlands
Crowd-free exploration and outstanding landscapes in Loch Lomond
Loch Lomond's bonnie banks are immortalised in the famous Scottish folk song and their beauty draws plenty of summer visitors. Come autumn, though, and you'll have significantly less people to jostle with for the best view of the loch's sparkling waters amongst amber-coloured trees.
Exmoor, Southwest England
Dark skies and stargazing opportunities in Exmoor
Exmoor National Park's open moorland and heather-clad hills take on a different personality in autumn. The landscape shimmers with golden hues and Exmoor ponies gather in herds. But what really makes it stand out are the opportunities for some stellar stargazing at the end of a day's walking. The Dark Skies Festival runs through October and heading out into the frostbitten night rewards with starlit skies.
Anglesey, Northwest Wales
Watch the annual starling migration on an historic Welsh island
The Welsh island of Anglesey is a haven for birdwatchers who flock here to catch sight of the migrating birds that regularly grace its shores. Late autumn evenings also bring the chance to witness a starling murmuration over Malltraeth Marsh – an incredible spectacle that sees hundreds of thousands of migrant starlings form dancing clouds. 
Isle of Arran, Western Scotland
Have a wee dram in the home of whisky
Known as 'Scotland in miniature', Arran never loses its capacity to enchant. But come here in autumn and you'll encounter fewer people as you discover the island's beaches, forests, and mountains. And after a day's walking, unwind with a dram of locally distilled whisky by a crackling fire.
Northumberland, Northeast England
Seal-spotting boat trips in Northumberland
The 62-mile Northumberland Coast Path runs through an Area of Outstanding Natural Beauty, giving you sweeping, cinematic scenes over dunes, headlands, and castles with every step. We love taking a boat trip to the Farne Islands at this time of year for the bonus of spotting baby grey seal pups on the shoreline.
Watching rare birds and baby grey seals in Norfolk
Another great location for spotting baby grey seals in October and November is Norfolk, specifically Blakeney Point. Birdwatching enthusiasts are in for a treat, too, as pink-footed geese and migrating birds are frequent visitors to what's known as The Wash – the tidal marshland that empties into the North Sea.
Glencoe, Scottish Highlands
Soaking up dramatic scenery at Scotland's stunning fell
Autumn in Glencoe heralds the start of the deer rutting season, and as you walk amongst some of the Highland's most dramatic, valley-filled scenery, there's a good chance you can spot wild red deer popping their heads up in the distance. Deer safaris get you closer to best spots for watching the spectacle unfold.
All destinations feature on our carefully-curated itineraries. We offer a fabulous selection of holidays all of which promise excellent walking and hiking opportunities. Please note, all itineraries are subject to change.