Details
Reading time: 3 - 6 minutes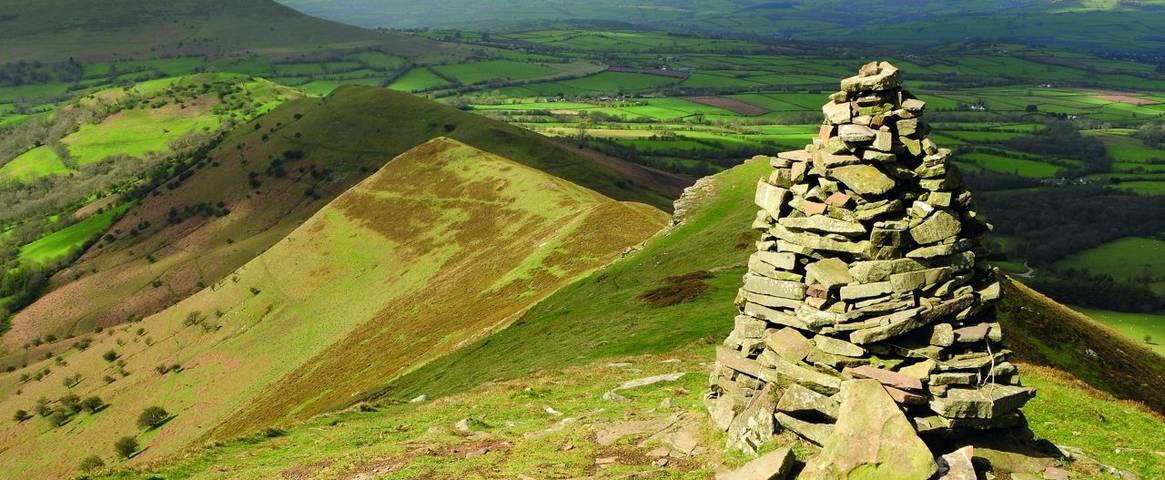 With its rolling countryside, soaring mountains, glittering lakes, beach-studded coastline, characterful towns and villages, and epic national parks, Wales promises adventures for every type of traveller. It's also home to some of the UK's most cherished walking routes and coastal trails, all rewarding with soul-stirring views. Here are some of the big-name attractions you cannot afford to miss.
Brecon Beacons (Bannau Brycheiniog) National Park
Established in 1957 under the National Parks and Access to the Countryside Act of 1949, Brecon Beacons (Bannau Brycheiniog) National Park covers 520 square miles of expansive grass-covered uplands and old red sandstone rock. There's also heather-clad plateaus, waterfall-splashed landscapes, deep caves, brooding peaks, old industrial mines, and endless opportunities for outdoor enthusiasts. In addition to walking and hiking, activities include horse riding, climbing, caving, canoeing, wildlife-watching, and stargazing (the park has proudly held International Dark Sky Reserve status since 2013). Also unmissable is Pen y Fan - the highest point in South Wales at 886 metres and one of the park's most popular hikes.
Located right on the south-westerly edge of the Brecon Beacons (Bannau Brycheiniog) National Park, this Special Area of Conservation (SAC) and Site of Special Scientific Interest (SSSI) is where the rivers Mellte, Hepste, Pyrddin, and Nedd-fechan meet to form the River Neath. Their waters wind down deep gorges and over a series of drops to create the UK's greatest concentration of waterfalls. Some are easy to access while others are linked only by trails and require more effort. The star of the show is Sgwd yr Eira, meaning Waterfall of the Snow in Welsh. Not only can you watch it tumbling over the 50-foot cliff, but you can walk behind the curtain of water.
Dan-yr-Ogof National Showcaves of Wales
Dating back three hundred million years, this world of stalactites and stalagmites was discovered by brothers Tommy and Jeff Morgan in 1912 in search of a water supply source. Armed with only candles to light their way, they unearthed the spectacular 11-mile-long chain of atmospheric tunnels and caverns now collectively known as the award-winning Dan-yr-Ogof National Showcaves Centre. Highlights include Cathedral Cave for its high-domed chamber and waterfalls, Bone Cave for its 42 Bronze Age skeletons, and Dan-yr-Ogof for its limestone formations. There's also plenty of family-friendly draws, including a Shire Horse Centre & Farm, adventure playgrounds, and 200-plus life-sized dinosaur models to keep kids entertained. 
There's no shortage of bookishness in Hay-on-Wye – the pretty market town hugging the River Wye on the English-Welsh border. Living up to its moniker as the second-hand book capital of the world, the town has over two dozen bookshops that attract bookworms in their droves. But the obvious pull is the Hay Festival of Literature & Arts – an annual event said to have been founded around a kitchen table in 1987. Nowadays, this huge gathering of writers, poets, comedians, politicians, and literature fans runs for ten days at the end of May (exact dates vary year on year) and celebrates all things book-related (it was famously described as 'Woodstock of the mind' by Bill Clinton in 2001). 
Snowdonia (Eryri) National Park
As the largest and loftiest national park in Wales at 823 square miles, Snowdonia (Eryri) really does have it all: jagged peaks, dramatic waterfalls, ancient woods, and a positively Tolkienesque vibe (parts of the park reportedly inspired Middle Earth in The Lord of the Rings trilogy). Must-dos include climbing the rugged foothills of Cader Idris, visiting Harlech Castle, and exploring market towns such as Dolgellau and Machynlleth. However, nothing beats a trek to the summit of Mount Snowdon (since November 2022, park authorities have agreed to use the mountain's Welsh name, Yr Wyddfa, rather than the English equivalent). Standing 1,085 metres tall, the highest mountain in England and Wales thrills with views that stretch down to Pembrokeshire, up to the Peak District, and across to Ireland on a clear day. 
You'd be forgiven for thinking you've stumbled upon a little slice of the Italian Riviera in Portmeirion – the Portofino-inspired fantasy village famously built between 1925 and 1975 by Welsh architect, Clough Williams-Ellis. Located on the coast of north-west Wales in Gwynedd, it continues to delight with stunning architecture, gorgeous views of the Dwyryd Estuary, plenty of The Prisoner references (it was the location of 'The Village' in the cult 1960s TV series), and endless photographic opportunities. Allow at least three hours for your visit and don't leave without stopping by the beautiful Japanese Garden with its pagoda and lily-covered lakes and exploring the subtropical forest (known as The Gwyllt) - a treasure trove of secret gardens, a derelict castle, rare flowers, and some of Britain's largest trees. 
Built as a medieval fortress in the mid-13th century by Powys ruler Gruffydd ap Gwenwynwyn, this Welshpool gem is most cherished for its jaw-dropping gardens spread over 26 acres. Designed in the 1680s when William Herbert, 1st Marques of Powis commissioned architect William Winde to develop a series of terraces and formal grass slopes, the garden in its current form is home to rare plants, clipped yew trees, and paths leading to the Great Lawn, the Formal Gardens, and the Wilderness. The castle itself, now a National Trust property, is a joy to explore, not least for its artworks, paintings, sculptures, furniture, tapestries, and one of the world's most significant collections of Indian artefacts. The surrounding estate grounds are equally attractive, especially the parkland where you'll spot wild red and fallow deer roaming freely.
Located at the southern end of the Menai Strait between north Wales and Anglesey, this fortress-palace impresses for its sheer scale. Built by Edward I at a whopping cost of £25,000, the earliest reference to starting construction was in June 1283. The project took 47 years to complete, resulting in a building far mightier than the rest in his so-called Iron Ring of castles. This was down to master miliary architect, Jacques de Saint-Georges d'Espéranche, whose design flourishes included murals, glass in the windows, and state-of-the-art comforts such as separate bathrooms and running water. Most recently, this ancient setting is where the news of King Charles III's ascension to the throne was formally declared, with a reading linking the new sovereign to his investiture as Prince of Wales at the same venue 53 years ago.