Details
Reading time: 3 - 6 minutes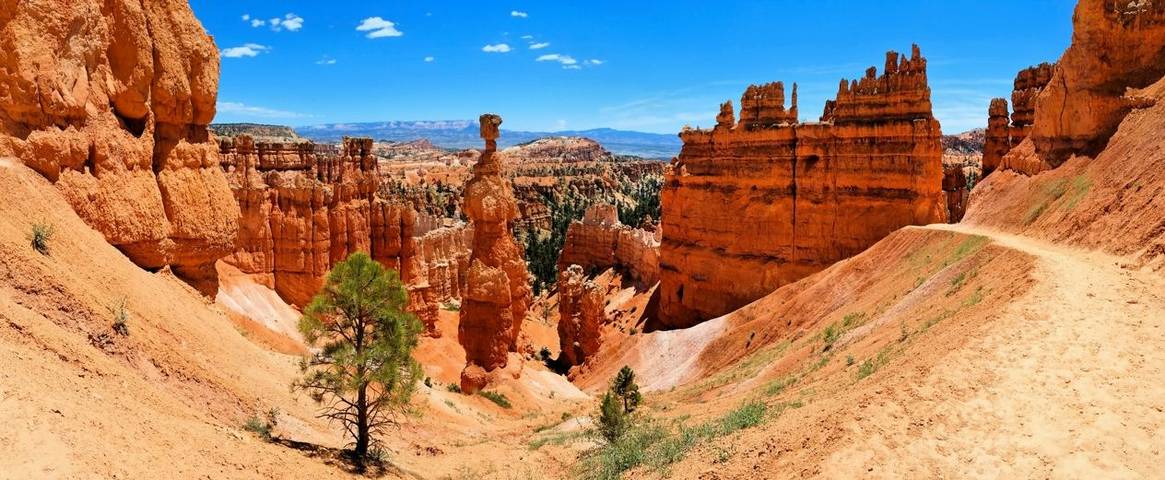 For epic landscapes and soul-stirring views in all directions, the national parks in the USA's Southwest are unrivalled. Here's a few of our favourites, all of which promise endless opportunities for walkers, adventurers, thrillseekers, and those keen to reconnect with nature. 
Located five miles north of Moab, this 76,000-acre wonderland is home to 2,000-plus natural sandstone arches. Work your way along trails and viewpoints to marvel at hundreds of soaring pinnacles, massive rock fins, and giant balanced rocks that come with apt names including Double Arch, Private Arch, Parade of Elephants, Balanced Rock, Courthouse Towers, and Garden of Eden. Most standout is the 65-foot-high Delicate Arch – the freestanding rock that's so iconic it features on Utah's numberplates. Having enjoyed several nicknames over the years (we rather liked Cowboy's Chaps, Old Maid's Bloomers, and Salt Wash Arch), its current moniker first appeared in a 1930's scientific article that described it as "the most delicately chiselled arch in the entire area." 
The USA's third most-visited national park, this Utah gem is where you'll find a wealth of orangey-red vistas, hanging valleys, and winding trails that tower over the 2,000-feet-deep Zion Canyon. Along with the challenging trail to the top of the 1,488-foot-tall Angels Landing, the other big highlight is the wildlife. The park is home to all manner of mammals, amphibians, reptiles, fish, and a whopping 289 species of birds, including the California Condor – the largest flying bird in North America with a wingspan of 10 feet from tip to tip. While the more adventurous may want to try one of the big-wall climbs this place is famous for, the less brave will be happy following trails that range from short and easy to steep and strenuous. Equally appealing is The Watchman Trail, which rewards with a great view of the valley beneath.
Bryce Canyon National Park
The focus here is on hoodoos – weirdly-shaped rock spires resembling totem poles carved out by thousands of years of wind and water erosion. Just a 90-minute drive from Zion National Park, Bryce is less canyon and more a collection of giant horseshoe-shaped amphitheatres that showcase the park's unique geological features. The hiking opportunities are unlimited; from easy walks along the edge of the Bryce Amphitheatre using the Rim Trail, to more strenuous adventures on the Peekaboo Loop. Keep your eyes peeled for migratory hummingbirds, nesting Peregrine Falcon, Rocky Mountain Elk, and Pronghorn – all of which cross through daily. The park is also a huge draw for stargazers thanks to its status as a Gold Tier International Dark Sky Park. It hosts the annual Bryce Canyon Astronomy Festival (usually in June) as well as various events and activities led by park rangers and volunteer astronomers.
Capitol Reef National Park
Often overlooked as a drive-through between Bryce Canyon and Arches national parks, this 241,904-acre site is packed with plenty of surprises – but far less crowds. You'll find towering red rock cliffs, deep canyons, sweeping vistas, and peaceful hiking and walking trails, plus a wealth of cultural and historical sites. Head to the green oasis known as the Fruita Rural Historic District for its apple, cherry, peach, and pear orchards planted by early settlers and don't miss the Fruita schoolhouse and blacksmith shop as well as the Gifford Homestead Museum & Bakery. Further highlights include Sunset Point for dramatic views over rock formations and Cassidy Arch (named after the American outlaw, Butch Cassidy) for great photographs at almost any angle.
Canyonlands National Park
A wilderness of canyons, arches, and buttes carved by the Colorado River and its tributaries, this awe-inspiring national park covers some 527 square miles of colourful landscape. Expect walking and hiking trails of varying difficulties, countless archaeological sites, otherworldly geological features, and fascinating wildlife. What sets this place apart is how it's been divided into districts, some of which are easier to access than others. These include Island in the Sky for short trails and expansive views, The Needles for towering sandstone spires and remote wilderness areas, The Maze for challenging terrain requiring a high level of physical fitness, and the Colorado and Green Rivers for kayaking and rafting. For some of the most significant Barrier-Canyon rock art in North America, Great Gallery at Horseshoe Canyon is an intriguing spot. Should time allow, visit Newspaper Rock State Historic Monument for its rock panel carved with one of the largest known collections of petroglyphs.
Grand Canyon National Park
This grandaddy needs little introduction. As one of the seven natural wonders of the world and a UNESCO World Heritage Site, this icon in the high desert of northern Arizona is one of the USA's heroes. Chiselled by the Colorado River over millions of years, it averages a depth of 4,000 feet (6,000 feet at its deepest point) and measures 18 miles across from rim to rim. While its sheer scale is arguably best appreciated from high above by helicopter or small plane, little beats discovering much of it on foot for close-up views and bragging rights. The park encompasses 1.2 million acres so your experience will be determined from which part you visit: North Rim, South Rim, East Rim, West Rim, or Grand Canyon West (the most recently developed and home to the Grand Canyon Skywalk). As far as hikes go, we love following the well-maintained trails from the South Kaibab Trail to Skeleton Point for breathtaking views of the mighty Colorado River.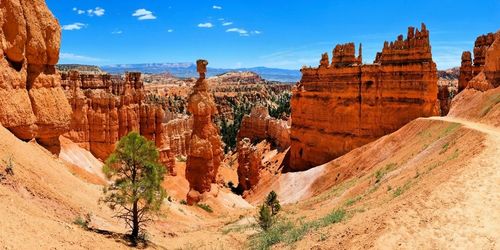 National Parks of the Southwest USA
Accommodation: Various partner hotels
Departing: 30 Sept 2023
Price from: £4,699pp (excl. flights)
Call 020 3974 8865 or click here to book