Details
Reading time: 3 - 6 minutes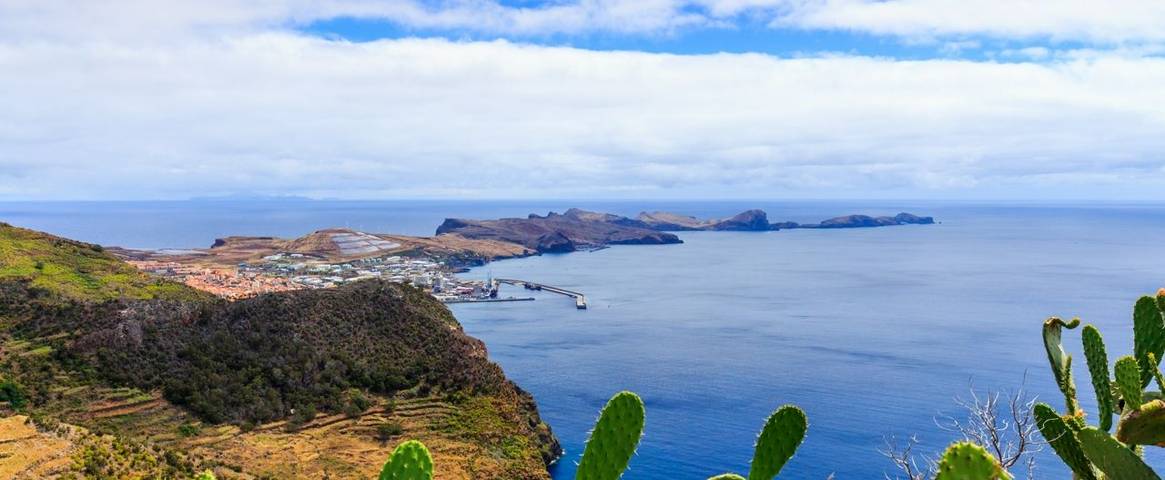 Portugal has always raised the bar high for impressive wine regions, glittering beaches, medieval castles, botanical wonders, postcard-pretty towns, sleepy villages, and rural heartlands. Not only does it delight with a huge coastline bathed by the Atlantic Ocean, but it also guarantees year-round sunshine, diverse landscapes for walking and hiking, and a slew of beauty spots – especially around the Eastern and Western Algarve, the island of Madeira, and the nine-island archipelago known as the Azores. Here's why we're so madly in love with it. 
The geologically dramatic island playground located 600 miles from the mainland, Madeira is all vineyard-clad hills, rugged mountains, lush green forests, and black sand beaches. It was a favourite haunt of Winston Churchill for good reason; when holidaying here in 1950, he was smitten with this so-called floating garden and its sub-tropical climate. As you'd expect, it's fabulous on the seeing and doing front. Highlights include heading to the glass-bottomed Cabo Girão Viewing Platform for views of one of the highest sea cliffs in Europe, walking a chunk of the magnificent Levada do Norte, and exploring the island's western regions filled with flower-lined waterways, volcanic pools, mountain slopes, and traditional fishing villages. 
As Madeira's compact capital, Funchal charms with a smart marina, centuries-old colonial buildings, a colourful market in the old town, and four lovely beaches. Must-dos include riding the cable car to the Madeira Botanical Gardens for eyebrow-arching city views, admiring Flemish and Portuguese paintings at the Museum of Sacred Art, visiting the 15th century Sé Cathedral, and wandering along Rua de Santa Maria to spot its collection of over 200 fabulously painted doors. Equally visit-worthy is the Museu CR7 – the museum dedicated to the island's football superstar, Cristiano Ronaldo.
A necklace of nine volcanic islands set in the North Atlantic Ocean, the Azores is a sub-tropical wonderland that is very much a part of Portugal. The largest and most accessible of the archipelago is São Miguel – a forested beauty blessed with volcanic peaks, sparkling lagoons, intriguing geothermal spots, and waters that are home to sperm whales, beaked whales, and dolphins. More adventure awaits on the remaining islands, including opportunities to climb to the summit of 2,351-metre-high Mount Pico, enjoy crater rim walks and thermal pool swims, and spend time in the UNESCO-listed city of Angra do Heroísmo on Terceira Island.
A city built on seven hills, Lisbon has so much more appeal than just Pastéis de Nata (custard tarts). Often hailed as one of Europe's most charismatic capitals, it tempts with cobbled streets, bougainvillea-filled squares, a glittering river, and plenty of big-name attractions such as the 16th-century Jerónimos Monastery, Belém Tower, St. George's Castle, and Praça do Comércio (Commerce Square). Highlights include strolling along Liberty Avenue, admiring artworks at the Berardo Collection Museum, marvelling at ceramics at National Tile Museum, and riding the Elevador de Santa Justa (also known as the Carmo Lift) for arresting city views.  
It may be just 16 miles west of Lisbon, but the town of Sintra seems a world away – not least for its setting in the wooded hills of the Serra Mountains. Must-dos include working your way around the fairytale-like castles and palaces (Pena Palace, built in 1854 by Fernando II is easily the most beautiful), exploring the mist-soaked forests, relaxing in the gardens of Quinta da Regaleira, and gazing at the dramatic coastline at Praia da Adraga. Also worthy of your attention is Parque Natural de Sintra-Cascais for the showstopping Cabo da Roca – the rugged headland that marks the westernmost point of mainland Europe.
Spanning a vast space between Olhão to Vila Real de Santo António and the Spanish border, the crowd-free Eastern Algarve is characterised by rolling countryside, vineyards, lagoons, white-washed villages, and salt pans of the Ria Formosa Natural Park. Admire the 13th century Moorish castle as you stroll the Ria Gilão cobbled streets in the pretty town of Tavira, and learn about the history of Vila Real de Santo António – the easternmost Algarve fishing town on the banks of the Guadiana River, which marks Portugal's border with Spain. 
Stretching from Silves to the Atlantic seaboard, Western Algarve has a wilder vibe that's perfect for walkers and hikers keen to navigate dramatic cliffs, secluded coves, and unspoilt beaches. Highlights include visiting the historical town of Lagos, exploring the pine, oak, and eucalyptus forests around the Serra de Monchique, and following the coastline to Praia da Bordeira. Equally rewarding is the wind-blasted Cape St. Vincent – the most southwesterly point in mainland Europe famed for its sacred ground, birds of prey, and lighthouse dating back to 1846. 
Given its Atlantic, African, Asian, Brazilian, and Mediterranean culinary influences, Portugal does not disappoint when it comes to picking a place to eat. And while its signature dishes may be lesser-known than those of neighbouring Spain, Italy or France, there's a big push on simplicity by using just a few ingredients. Try the green-tinged Caldo Verde soup, Bacalhau codfish, Bifanas (the national pork sandwich), and Pastis de Nata – a puff pastry crust filled with baked custard that's the perfect sweet treat. 
When it comes to wine, Portugal has been grabbing headlines for the number and variety of its indigenous grapes (approximately 250, only a few of which are used for commercial exports). Port (or porto) is the fortified wine sold pretty much everywhere, but if that's not your tipple of choice try Ginjinha (Ginja), a traditional Portuguese sour cherry liqueur, or Licor Beirao – the national drink produced since 1929 (the recipe is top-secret).
Lisbon may get all the love for being one of the sunniest capital cities in Europe with an average of 2,800 hours of sunshine each year, but the rest of Portugal enjoys warm-to-hot summers and mild-to-cool winters. The Algarve easily has the best climate across June, July, and August when there's minimal rainfall, near-zero cloud cover, and endless days of sunshine (but never too unbearably hot).
All destinations featured are included in our carefully-curated itineraries. We offer a fabulous selection of Portugal holidays, all of which promise excellent walking and hiking opportunities. 
"Good walk choices and beautiful scenery. The leaders were excellent and made the holiday a joy. It was my first walking holiday and I am already poised to book another as I enjoyed it so much." - HF Holidays Guest after joining us on a Western Algarve holiday.