Details
Reading time: 3 - 5 minutes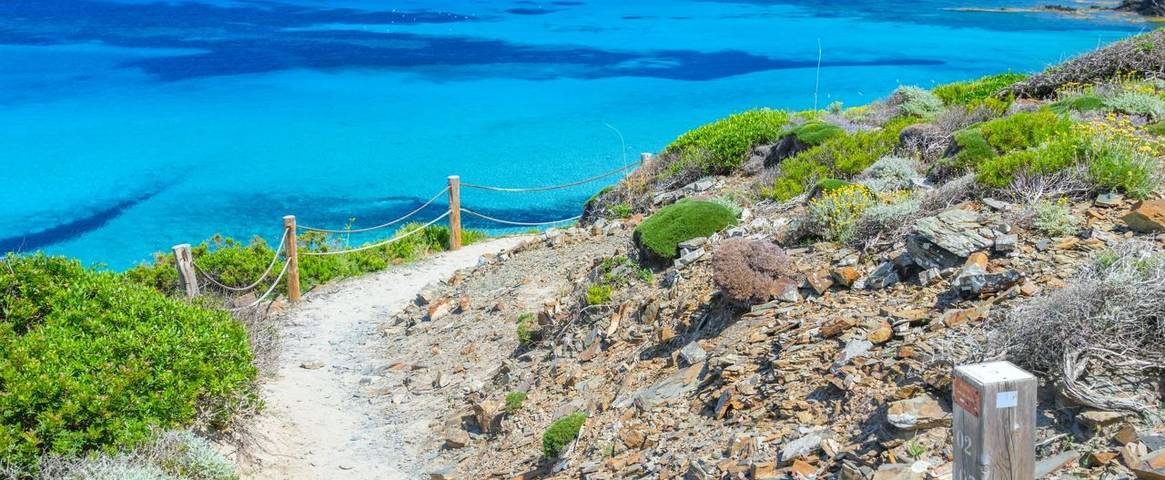 Why we love walks in Spain
We've had a long love affair with Spain, not least for its steamy-hot summers, lovely beaches, big-name cities, and walking opportunities on its mainland and islands. But even the best relationships need freshening up from time to time. We've set aside the sun lounger and called time on the cocktails (until later, anyway) to fall head over heels for walking holidays in Spain once again.  
The Camino de Santiago is a 1,000-year-old pilgrimage route to Santiago de Compostela – believed to be the final resting place of St James the Apostle – is one of the most famous walks in Spain. The 70-mile-long route known as the French Way takes you through a showreel of medieval villages and centuries-old monasteries in northwest Spain. Standout highlights include the pine groves and meadows of Sierra de Ligonde and your first views of Compostela from Monte de Gozo after a tough-but-rewarding six-day hike.  
All whitewashed villages, bullfighting, and flamenco, Andalucía is Spain to a tee. As the region's capital, Seville is the showstopper here. Once hailed as the 'New Rome', this good-looking Spanish city on the banks of the River Guadalquivir delights with Renaissance-era architecture and a cobbled old quarter that boasts no less than three UNESCO World Heritage Sites: the Alcázar of Seville (Royal Palace), Seville Cathedral, and the General Archives of the Indies. 
Catalan country and coastline
While Barcelona brings the bulk of visitors to Catalonia, there's plenty to please beyond the Catalan capital, too. The 10-million-year-old La Garrotxa Volcanic Zone National Park provides a playground for adventures big and small. A landscape crafted by ancient lava flows and extinct volcanoes is now a haven for rare plants and wildlife. Then there's the GR92, a long-distance trail that explores the border regions between France and Spain that have helped shape the Catalan identity. Also known as the Mediterranean Trail, this snaking network of cliff-hugging paths ticks off Pyrenees mountains and spectacular views.  
There's much more to the biggest of the Balearics than just fly-and-flop beach breaks. Regularly voted one of Europe's most liveable cities, Mallorca's effortlessly cool capital, Palma, puts the island on the map for cultural experiences. Spend time gazing at the colossal sandstone cathedral, visiting Es Baluard Museum of Contemporary Art and Joan Miró's studio, or strolling the bar-lined promenade that stretches for miles along the seafront. What's more, the city sits in easy reach of walks in the UNESCO-listed Tramuntana Mountains, famed for the historic Lluc Monastery and hilltop village of Deià.     
Menorca moves at a slower pace than its larger, louder, Balearic neighbours. Learn about the island's British connections in the port city of Ciutadella and take it easy in the laidback capital, Mahón. For walkers, the Camí de Cavalls (Way of the Horses) dates from medieval times when it linked coastal lookout towers used to help warn people of pirate attacks. For wildlife-spotting, try Albufera des Grau Natural Park. Part of Menorca's UNESCO Biosphere Reserve, it's a protected area of wetlands where you're in with a chance of seeing Balearic lizards and the fisher eagle.  
Closer to Africa than the Spanish mainland, the Canary Islands are one of Spain's finest walking destinations. The largest island of the archipelago, Tenerife, has no shortage of dramatic volcanic landscapes, pine-scented forests, and wide-open spaces. Most standout is Spain's highest peak, Mount Teide – the smoking hotspot with a summit 12,198 feet above sea level. Equally scenic is Gran Canaria for sculptural sand dunes, banana plantations, and camel safaris. La Palma also wins points for rugged cliffs, black beaches, volcanic craters, and lava rivers.
One for the history buffs and fans of Dan Brown's Da Vinci Code, the Cathar Trail lines up a long list of ruined castles and chateaux that tell the tragic story of the Cathar people who were persecuted during the Spanish Inquisition. This 58-mile walking route crosses from France into Spain and offers a fascinating insight into the turbulent and bloody past of Europe in the Middle Ages. Spectacular scenery in the Pyrenees mountains comes as standard.  
All destinations featured are included in our carefully-curated itineraries. We offer a fabulous selection of Spain holidays, all of which promise excellent walking and hiking opportunities.    
Check out our Spain holidays or please call us on 020 3974 8865 for more information.