Details
Reading time: 3 - 5 minutes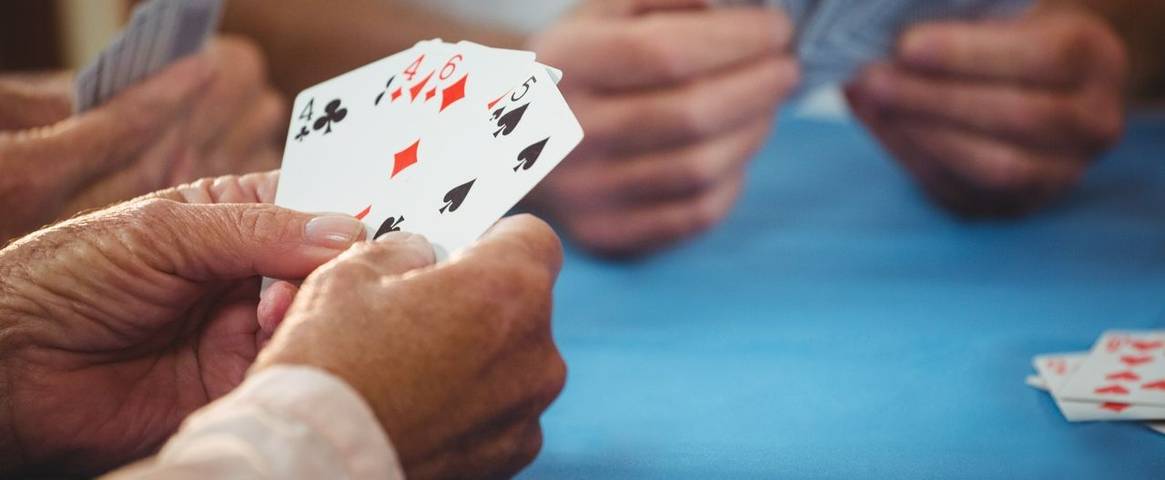 Bridge is one of the world's most popular card games and its origins are believed to be over 500 years old. Once you've got to grips with the rules, modern bridge requires nothing but a standard deck of 52 cards and four players. We offer bridge holidays for everyone; from absolute beginners to the more skilful and experienced.
Mike Eden is a Professional Member of the English Bridge Union Teaching Association, a qualified club director, and one of our bridge holiday tutors. Here, he tells what he loves about the game and what you can expect on our bridge holidays.
What is a bridge holiday?
Simply put, you'll learn the ins and outs of the game through practice and play in relaxed surroundings. Beginners will have every opportunity to bone up on the basics and terminology before getting to grips with a few tricks and techniques. Meanwhile, more experienced players will be able to deepen their knowledge and strengthen their game. 
What accommodation is included on a bridge holiday?
You'll be staying in one of our 16 characterful country houses, all of which boast desirable addresses just a skip away from some of the UK's best-loved national parks and Areas of Outstanding Natural Beauty. Full-board dining comes as standard and includes a cream tea on arrival day. You can expect well-appointed guest rooms for a great night's sleep, plus dedicated boot and drying rooms, licensed bars, relaxing public spaces, and evening entertainment on select dates. 
What will my day look like on a bridge holiday?
Led by experienced EBU-qualified bridge directors, you'll enjoy morning bridge sessions and evening competitions. And when you're not busy playing, there's ample opportunity to head out on self-guided walks in the local area. All our UK country houses come equipped with a Discovery Point where you can borrow easy-to-follow routes, maps, and information for exploring nearby highlights on your own.   
For more advanced players, we also offer bridge and walking holidays where you'll enjoy short, guided walks in the morning followed by bridge in the evening. 
Why should a complete novice try bridge?
Though it takes a little while to learn, bridge is a fun game to play. It's very social and a great way to meet new friends. Solo players are more than welcome as we'll always find you a partner. You don't need any special skills to learn bridge, just the ability to count to 13 and think logically. 
Where can I experience a bridge holiday?
At HF Holidays, we're big on choice. For 2023, we're offering bridge holidays at five of our favourite country house locations, including Shropshire Hills, the southern Yorkshire Dales, the South Downs, the Peak District, and the Cotswolds. 
What first got you into playing bridge?
I first got into bridge at university. I was studying mathematics but was asked to pick a subsidiary subject. I tried economics and my tutor was a bridge player who played for England. He got me hooked and the rest is history. When I met my future wife, she also played. For the last 48 years we've made a great team.
What skills does playing bridge develop?
It certainly helps with logical thinking and deduction. It has been proven that bridge keeps the brain active in the same way as crosswords and sudoku. It is an all-round brain exercise and for those of us getting older it definitely helps.
Do you need any card skill to come on a bridge holiday?
Absolutely not. It's an advantage if you know the suits and the honour cards (Ace, King, Queen, Jack). But if you have played whist before then you are halfway there already.
How long does a game of bridge take?
A game lasts seven and a half minutes – that's the official time you have to play a hand in a competition.  In a competitive setting you usually play around 24 hands so that's about three hours. However, when you are learning you can take as long as you want. Our games are much more casual, and you'll always be paired with a partner that matches your experience level.  Many people learn to play bridge just to have fun with family and friends.  
Who will I meet on a bridge holiday?
You'll be with a group of like-minded guests who are equally keen to learn the game while meeting new people. Even if you start off alone, you'll find that strangers are easily brought together by playing bridge. All this plus a bridge tutor who will be able to share their knowledge and facilitate games.
We offer a fabulous selection of bridge holidays across our UK country houses, all of which include comfortable en-suite guest rooms, full-board basis, and bridge tuition.