Visit the region of Puglia which is relatively undiscovered and located in the 'heel' of Italy. It has been home to multiple empires and cultures who have all left their architectural mark. The terrain is pre-historic with caves, sink holes and narrow ravines.  Alta Murgia National Park is rich in many varieties of bird and flora. The gentle rolling countryside offers view across the plains to snow capped mountains of del Polino. This area was once seen as the bridge to the East and resulted in a diverse mix of cultures, arts and history. This area boasts three UNESCO World Heritage Sites, one of them being the town of Alberobello, famous for its unusual Trulli houses. Explore the narrow streets of the old town of Altamura and you will find the interesting Romanesque-Gothic cathedral, which has the most intricately carved portal in Puglia, and 14th/15th century miniature sculptures. The alleyways distinctive of Altamura usually end in small courtyards or "claustri". The area surrounding the town features prehistoric sites where dinosaur footprints and the "Man of Altamura" skeleton have been found. Altamura is famous for its bread, produced since the time when the town supplied ancient Rome. There are several famous bakeries where they make the delicious Pane di Altamura and Focaccia di Altamura (topped with tomatoes and herbs). Other local specialities include cheeses, fried artichokes, braised chicory, fava beans, fresh ravioli and an array of homemade sweets. There are also many other interesting shops and cafés.
Holiday Highlights
Discover an area of Italy that is still relatively undiscovered and fringed by mountains and turquoise seas
Walk through the rolling landscapes of the Alta Murgia National Park, dotted with ancient towns steeped in history
Uncover rural charm and rich culinary heritage by its quaint trattorias and great food
Visit the Sassi at Matera, UNESCO listed cave dwellings lived in until the 1960s
Socialise in the evenings when the town comes alive, Italian-style
What's included
A full programme of guided walks with two options every walking day
All transport to and from walks
The services of experienced HF Holidays' leaders
"With flight" holidays include return flights from the UK and hotel transfers
7 nights' accommodation in en-suite rooms
Half Board – continental breakfast and evening meal
Welcome to Hotel San Nicola. Unpack and settle in.
---
Today both groups will visit the nearby national park of Alta Murgia to see one of its most spectacular features. Before the walks we visit the Altamura Man exhibition. During both walks we will visit the 'Pulo' of Altamura, one of the largest dolines (sink holes) in Italy. The caves in this cliff-lined depression were once home to prehistoric man and we may have a chance to descend into one of the caves to view the doline from the cliffs. The area is a haven for wildlife and flowers, and you may see species of butterfly, orchid, crocus and cyclamen.
Option 1 - Altamura & the Pulo
Distance: 7 miles (11km)
Total ascent: 500 feet (150m)
In summary: We'll start close to the Pulo and, after exploring the northern rim of the depression, will visit a cave dwelling. We will then descend out of the National Park, first more steeply across the limestone, then on gravel paths, through fields of grain, almond and olive groves, towards Altamura.
Highlight: The spectacular Pulo, the largest dolinbe in southern Italy.
Option 2 - Altamura & the Pulo extended
Distance: 10 miles (16km)
Total ascent: 500 feet (150m)
In summary: The harder walk starts a little further north of the Pulo. We'll take a longer walk among typical Murgia scenery towards the Pulo, visiting the depression and the caves. We return to our hotel by the same route as the easier walk.
Highlight: Visit the 'Altamura Man' exhibition about the preserved Genus Homo remains found in a cave near Altamura.
---
Both groups will travel to the World Heritage Site of Matera, about 11 miles from our hotel. We start from the Jazzo Gattini Visitor Centre outside the town and walk through the limestone scenery on the north of the deep Matera ravine. We visit a number of ancient rock churches and other antiquities and enjoy spectacular views across the ravine to the city. Our picnic lunch is then taken at the Jazzo, where welcome shade, drinks & toilets are available, together with the opportunity to browse local historical exhibits (payable locally).
We then travel to the town at the south side of the ravine, where there is an opportunity to visit more troglodyte houses and churches in Matera. Alternatively, enjoy a drink in a local bar, or explore the town independently.
Matera was selected as European City of Culture for 2019. The whole group will follow the same route accompanied by an experienced and knowledgeable local guide.
---
Today we visit our second World Heritage Site of the week. Castel del Monte stands as a beacon to beckon us forwards.
Option 1 - Castel del Monte
Distance: 5 miles (8km)
Total ascent: 600 feet (180m)
In summary: This walk starts to the east of the castle and wanders on good tracks through olive groves and past many whitewashed 'Trulli' houses. Hopefully there will be an opportunity for lunch and drinks to be enjoyed at a remote farmhouse, before ascending to the castle itself, where there will be some time to visit the inside of the castle (payable locally) to speculate on the many oddities of its construction.
Highlight: View Castel del Monte - a World Heritage Site that was completed in 1250
Option 2 - Alta Murgia and Castel del Monte
Distance: 9 miles (14½km)
Total distance: 800 feet (240m)
In summary: The Harder walk begins near the small hamlet of San Magno, southeast of the castle and takes a longer route on good tracks throughout to reach Castel del Monte. This route crosses the heart of the park and offers a chance to see the characteristic vegetation and agriculture of the limestone soils, before joining the route of the easier group. After lunch there may be time for an early afternoon drink at a farm. We can enjoy the panoramic views from the castle, before descending to our end point where we can enjoy a drink with the Easier group.
Highlight: Our route to the castle takes us through beautiful scenery - enhanced in the spring by wonderful wildflowers.
---
Each week there is a free day when no guided walks are offered. This is an ideal opportunity to relax around the hotel, walk independently or visit local places of interest. Some options for your free day may include:
Altamura: You may like to explore the historic town of Altamura, with its spectacular cathedral, archaeological museum, market, shops and ancient walls.
Alberobello: Alternatively, you may like to join an organised visit to the pretty World Heritage town and tourist hotspot of Alberobello, with its whitewashed 'Trulli' houses.
Bari: Easily reached by public transport, this old town and port contains many buildings of historical interest. Puglia's capital contains many churches but the most well known is the 11th century Romanesque Basilica de San Nicola, dedicated to St Nicholas, also known as Santa Claus. There are also many art galleries and, more recently, the futuristic football stadium was a venue for the 1990 World Cup.
Local information website: For information on Altamura and the Puglia area please visit www.viaggiareinpuglia.it/hp/en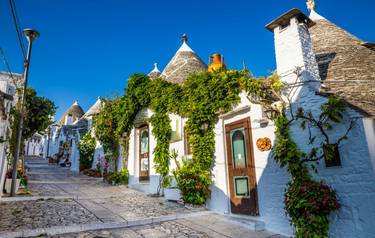 ---
Today both groups will enjoy a circular walk from the town of Gravina in Puglia. We walk through archaeological areas occupied from the 5th century BC, amongst olive groves and pastures used by grazing goats. We can also enjoy far reaching views across the town and beyond. On our return we visit archaeological complexes accompanied by a guide.
Option 1 - Gravina in Puglia & Botromagno Hill
Distance: 7 miles (11km)
Total ascent: 800 feet (240m)
In summary: From the centre of Gravina we make our way across an ancient aqueduct to the far side of the ravine. We ascend Botromagno Hill, site of an Iron Age hill fort, to a plateau where we can explore several archaeological sites. Our walk takes us along tracks and paths with lovely views. On our return to Gravina, we visit the amazing Sotteranea archaeological complex before exploring the town and perhaps enjoying refreshments.
Highlight: We'll use an English-speaking guide to tour the Sotteranea - a fascinating underground complex.
Option 2 - Gravina in Puglia, Serra Pendino and Botromagno Hill
Distance: 7½ miles (12km)
Total ascent: 1,100 feet (330m)
In summary: The harder walk starts to the south of Gravina and follows tracks and quiet lanes, traversing the flanks of the Serra Pendino and walking gently uphill to reach the plateau of Botromagno, where it joins part of the route of
the easier walk. There are opportunities to visit some of the archaeological remains on the plateau before descending to Gravina and joining the easier party to visit the Sottoranea complex and maybe have refreshments.
Highlight: The summit of Botromagno Hill features the remains of an Iron Age fort.
---
Today's walks in the Mercadante Forest provide a contrast to the open landscape of the limestone plateau.
Option 1 - Jazzo and Masseria
Distance: 6 miles (9½km)
Total ascent: 400 feet (120m)
In summary: Our route starts in the forest taking us through the northern edge of this woodland and out to open heathland. We continue to a deserted 'jazzo' before our route heads back into the woods and returns us to the taverna.
Highlight: This 'artificial' forest is home to many species of birds
Option 2 - Mercadante Forest Exploration
Distance: 9 miles (14½km)
Total ascent: 400 feet (120m)
In summary: We follow the same route as the easier walk to the deserted 'jazzo'. From here we will continue south of the forest before heading back into the woodland to join the easier party for refreshments.
Highlight: We find a peaceful and sun-dappled spot perfect for a picnic lunch.
---
We hope to see you again soon.
---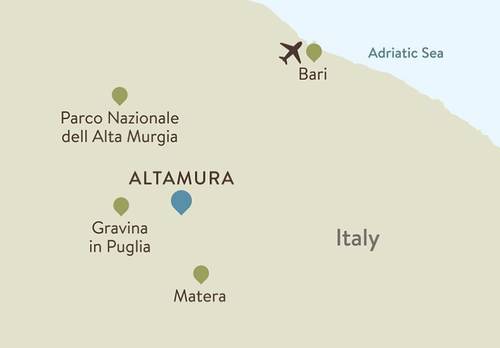 Hotel San Nicola - Puglia
The 4-star Hotel San Nicola is located in the heart of the old town of Altamura just 150 metres from Federico's Cathedral.  A former palace built in 1741 as the residence of the Cagnazzi family, the hotel has 25 comfortable bedrooms, 24 hour reception, bar and restaurant and free WIFI throughout.  Take the opportunity to sample the local Foccacia de Altamura from a nearby bakery which has been producing bread since 1421. 
Rooms
There are 27 modern en-suite bedrooms.
All bedrooms are equipped with a:
Phone
Air conditioning
Flat screen
TV
Minibar
Complimentary toiletries
Hairdryer
Facilities
The hotel has a:
24-hour reception,
Room service,
Laundry,
Ironing and dry cleaning service (extra charge)
Food & Drink
Holidays at Altamura are Half Board with continental breakfast and evening meals at two of Altamura's restaurants.
Breakfast
Continental buffet breakfast: this is served from 7am in the courtyard dining room. This will include cereals, fruit juices, yoghurt, fresh fruit, cheeses/meats, selection of breads and croissants, jams, tea and coffee.
Lunch (payable locally)
Packed lunches can be bought from the local shops a few minutes from the hotel and can also be purchased from the hotel.
Evening meal
One of the highlights of this holiday is that our guests dine out in Altamura at a local restaurant that serves local dishes and specialities. A 3-course dinner will be served at the Tre Archi Restaurant every evening except on Saturdays and Wednesdays when we will be dining at the newly refurbished restaurant at Hotel San Nicola. 
This restaurant is within easy walking distance of our hotel and guests can experience the "passiagata", an Italian tradition where the locals with their families and friends walk out in the evening socialising, and take in this unique atmosphere.
Your Evenings
The friendly atmosphere of our holidays continues into the evening.
Most of our socialising at Altamura is over a relaxed meal, opportunity to talk about your day with your fellow guests and sample some local wines and dishes. See the town came alive in the evening with all the local families walking out, treating their children to ice creams and just sitting over a coffee.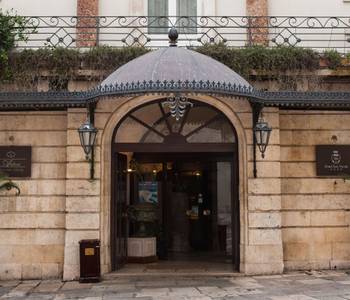 Getting to Hotel San Nicola - Puglia
Find out more about this location including travel details and room types.
More Information
What to Bring
Essential Equipment
To enjoy walking/hiking comfortably and safely, footwear, clothing and equipment needs to be suitable for the conditions. Safety and comfort are our priorities, so our advice is to come prepared for all eventualities.
Footwear with a good grip on the sole (e.g.Vibram sole) is the key to avoiding accidents.
Walking/hiking boots providing ankle support and good grip are recommended (ideally worn in), and specialist walking socks to avoid blisters.
Several layers of clothing, which can be added or removed, are better than a single layer (include spares).
Fabrics (lightweight and fast drying) designed for the outdoors are recommended.
Waterproof jacket and waterproof over trousers.
Warm hat and gloves. Gaiters are an optional but useful extra.
Denim jeans and capes are not suitable on any walks.
Rucksack with a waterproof liner.
Thermos flask for hot drink.
Water bottle (at least 2 litre).
Spare high-energy food such as a chocolate bar.
Small torch.
First aid kit – your leader's first aid kit doesn't contain any medication or blister kits (such as Compeed).
Sun hat and sunglasses
Sun cream.
Optional Equipment
Walking poles are useful, particularly for descents.
Insect repellent.
Sunglasses.
Camera.
All holidays are subject to availability and prices are subject to change.
Non-member associate fee: £10 per person.
These departure dates can be booked with flights or as land only holiday options. All packages that include flights are ATOL protected. Advertised flight prices are based on UK flights departing from London. Regional departures and/or connections to London, if available, can be requested. Cabin upgrades may also be available on request.
Date (Start - End)
Version
Price
Status
Trip Notes
Book
2019
28 Sep - 05 Oct
2019 Itinerary

£2,449

Unavailable
05 Oct - 19 Oct
2019 Itinerary

£1,149

Unavailable
2020
04 Apr - 11 Apr
2019 Itinerary

£1,249

Available
Book Now
11 Apr - 18 Apr
2019 Itinerary

£1,249

Available
Book Now
18 Apr - 25 Apr
2019 Itinerary

£1,249

Available
Book Now
25 Apr - 02 May
2019 Itinerary

£1,249

Available
Book Now
02 May - 09 May
2019 Itinerary

£1,249

Available
Book Now
09 May - 16 May
2019 Itinerary

£1,249

Available
Book Now
16 May - 23 May
2019 Itinerary

£1,249

Available
Book Now
12 Sep - 19 Sep
2019 Itinerary

£1,249

Available
Book Now
19 Sep - 26 Sep
2019 Itinerary

£1,249

Available
Book Now
26 Sep - 03 Oct
2019 Itinerary

£1,249

Available
Book Now
03 Oct - 10 Oct
2019 Itinerary

£1,249

Available
Book Now
Date (Start - End)
Version
Price
Status
Trip Notes
Book
2019
28 Sep - 05 Oct
2019 Itinerary

£949

Unavailable
05 Oct - 19 Oct
2019 Itinerary

£2,249

Unavailable
2020
04 Apr - 11 Apr
2019 Itinerary

£999

Available
Book Now
11 Apr - 18 Apr
2019 Itinerary

£999

Available
Book Now
18 Apr - 25 Apr
2019 Itinerary

£999

Available
Book Now
25 Apr - 02 May
2019 Itinerary

£999

Available
Book Now
02 May - 09 May
2019 Itinerary

£999

Available
Book Now
09 May - 16 May
2019 Itinerary

£999

Available
Book Now
16 May - 23 May
2019 Itinerary

£999

Available
Book Now
12 Sep - 19 Sep
2019 Itinerary

£999

Available
Book Now
19 Sep - 26 Sep
2019 Itinerary

£999

Available
Book Now
26 Sep - 03 Oct
2019 Itinerary

£999

Available
Book Now
03 Oct - 10 Oct
2019 Itinerary

£999

Available
Book Now
Important Information
Double room for sole occupancy: £13 per night
Independent travellers can join our transfer from Bari Airport: £21.50 single
Our airport taxi service operates at this resort: £110 per single taxi journey