Details
Reading time: 3 - 6 minutes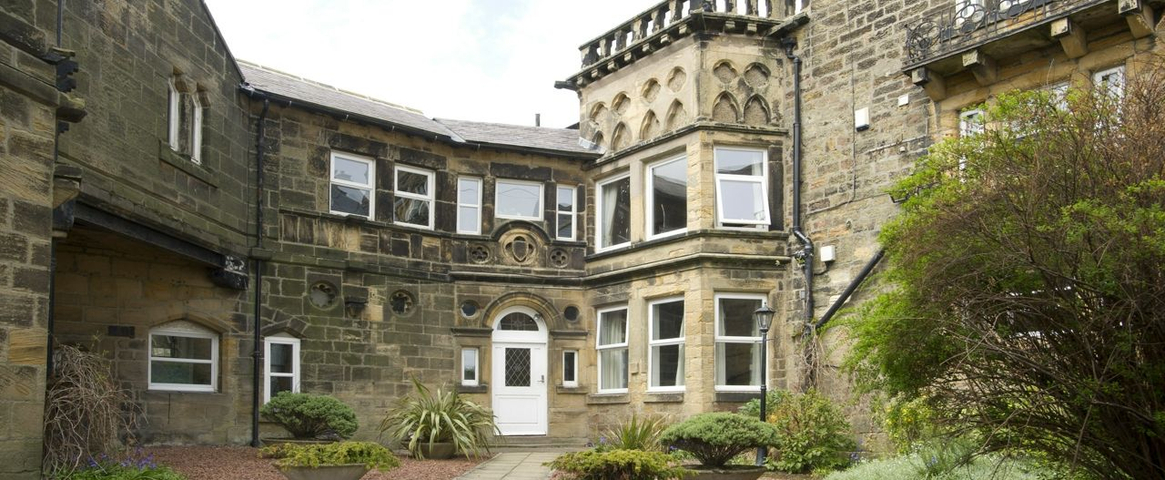 You'll find wonderful walks, warm welcomes, and much more at our former 18th century granary in the heart of Alnmouth – the postcard-pretty coastal village treasured for its colourful cottages, plentiful wildlife, and tranquil beach where the River Aln meets the North Sea. The setting is idyllic; a 40-minute drive from Northumberland National Park and within easy travelling distance of several visit-worthy castles. Here's what makes staying at Nether Grange such a treat.
It was most likely that Cadogan Hodgson Cadogan, Justice of the Peace and later High Sheriff of Northumberland, converted the granary into a spacious family house for his wife, seven children, teacher, five servants, and coachman in the 1870s. He replaced many of the original features, adding a new grand staircase between the ground and first floors. This was lit by a stained-glass window that remains today – you'll notice how one pane has the initials CHC as a stamp of ownership.  
Nether Grange was then purchased by banker John William Pease in 1875 and used as a family holiday home. His son John was Baron Wardington of Alnmouth and later Chairman of Lloyds Bank while his daughter Ella was a school governor and Chair of the parish council (the nearby Pease's Park at the back of the village on Riverside Road largely owes its origin to her). The house was later reimagined as a hotel and has been part of our HF Holidays lineup since 1947. 
Open from March to November and during the festive season, Nether Grange has 36 well-appointed guest rooms in two categories (Classic and Premium), many of which are sea-facing. There's also a large comfortable lounge, a dining room for a wide range of dishes made with fresh and seasonal ingredients, a licensed bar, and a conservatory. Elsewhere, the Discovery Point offers a wide range of easy-to-follow routes, maps, and local information for self-guided walks.  
A boot and drying room, elevated terraced garden, outdoor chess set, and books and games to borrow during your stay complete the thoughtful touches. And then, of course, you'll be just a stone's throw from Alnmouth Beach, a wide bay that's great for sandcastle building and wildlife watching (swimming in the estuary is not recommended due to the strong current).
Whether you're enjoying one of our guided or self-guided walking holidays, there's plenty to see and do within easy travelling distance of Nether Grange. Here's some of our favourites:  
Alnmouth: this pretty coastal village is adored for its colourful cottages, superb walking routes, peaceful bays, and deserted sandy beaches where the River Aln meets the North Sea. There's a small tidal harbour, a handful of shops, and several pubs and cafés. 
Alnwick Gardens: the castle's 12-acre garden is home to a collection of over 4,000 plant varieties. Highlights include the world's largest Tai Haku Cherry Orchard, a cascade comprising of 120 water jets, and the world's largest treehouse restaurant set 18 metres above ground level. 
Alnwick Castle: a 15-minute drive away, the market town of Alnwick is dominated by the second-largest inhabited castle in the country. Home to the Duke of Northumberland's family for over 700 years, it has featured in Harry Potter films and Downton Abbey specials. 
Bamburgh Castle: home of the Armstrong family since 1894 and crowning nine acres of the Great Whin Sill, this so-called king of castles has stood guard above the Northumberland coast for thousands of years. The site is by the seaside village of Bamburgh, a 35-minute drive away. 
Farne Islands: located off Northumberland's coast in the North Sea, this group of islands is home to thousands of seabirds and Britain's largest breeding colony of grey seals. Between March and October, regular boat trips run from Seahouses harbour - a 45-minute drive away. 
Lindisfarne (Holy Island): an hour's drive away, this sacred place is where you can follow in the footsteps of the ancient monks who built their priory here nearly 1,400 years ago. Don't miss the museum for a chance to learn more about the 8th century manuscript known as the Lindisfarne Gospels. 
Warkworth Castle: crowning the hilltop above the River Coquet, Northumberland's hilltop fortress and hermitage was used by William Shakespeare as the setting for several scenes of his Henry IV plays. Located in the village of Warkworth, it's just a 10-minute drive away. 
Seaton Delaval Hall: designed by acclaimed Baroque architect, Sir John Vanbrugh, this National Trust-owned mansion is a 40-minute drive away. The grounds are gorgeous, especially the formal rose garden that was created in the 1950s and 1960s by Lady Hastings. 
Cragside House: a 40-minute drive away, this National Trust-owned house was the first in the world to be lit by hydroelectric power. Highlights include one the largest rock gardens in Europe, a rhododendron-filled grounds, and over 40 miles of lovely lakeside and woodland walks. 
Hadrian's Wall: a 90-minute drive away, this World Heritage Site built in AD 122 extends for 73 miles. Don't miss the Roman Vindolanda Fort & Museum for fascinating artefacts, reconstructed turrets and temples, and insight of daily life in a Roman garrison town.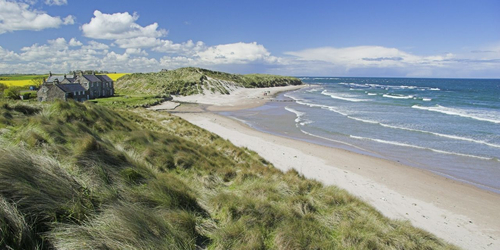 3-night Northumberland Gentle Guided Walking
Accommodation: Nether Grange, Alnmouth
Departures: Sept 2023 - Oct 2024, 3 nights
Price from: £439pp
Call 020 3974 8865 or click here to book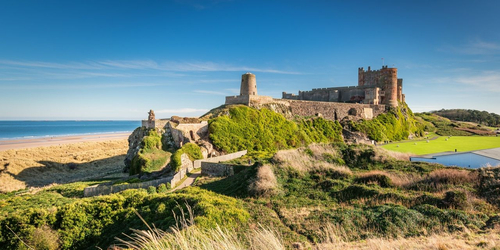 7-night Northumberland Guided Walking
Accommodation: Nether Grange, Alnmouth
Departures: Sept 2023 - Nov 2024, 7 nights
Price from: £875pp

Call 020 3974 8865 or click here to book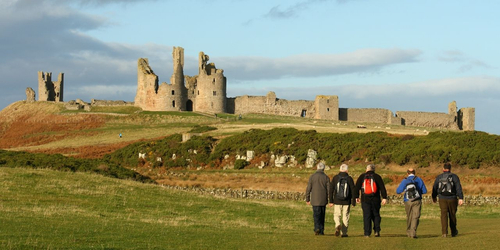 4-night Northumberland Self-guided Walking
Accommodation: Nether Grange, Alnmouth
Departures: Sept 2023 - Nov 2024
Price from: £429pp
Call 020 3974 8865 or click here to book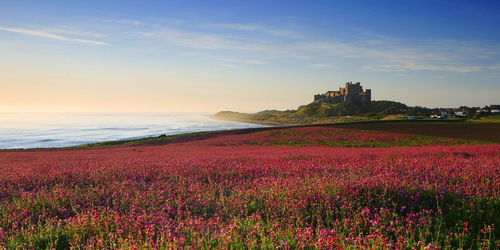 St Oswald's Way Coastal Section Guided Trail
Accommodation: Nether Grange, Northumberland
Departures: Sept 2023 - Oct 2024, 7 nights
Price from: £1,045pp

Call 020 3974 8865 or click here to book