Details
Reading time: 4 - 7 minutes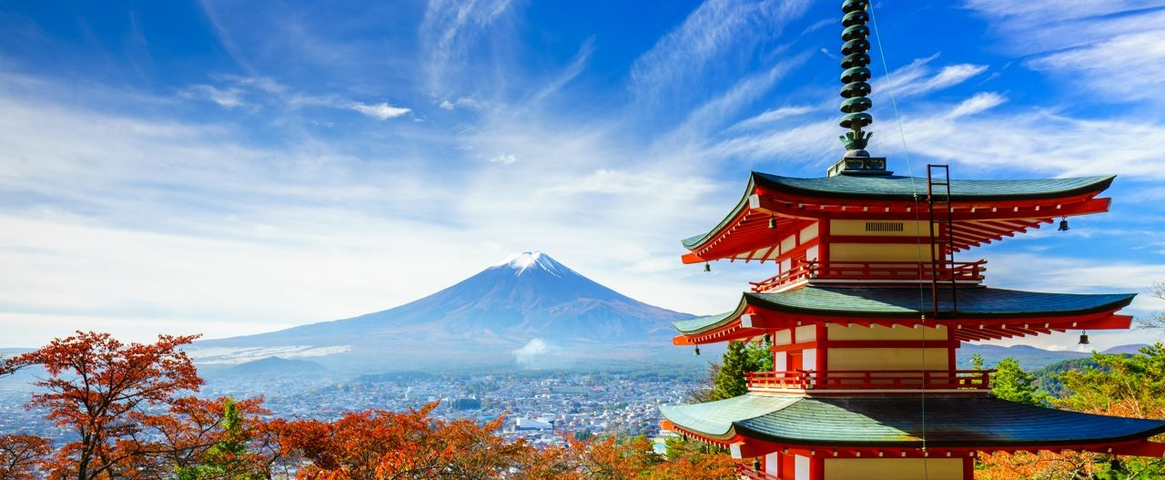 While every holiday is special, it's those once-in-a-lifetime trips to far-flung places that feel the most significant. Places where memories are forged, natural wonders are plentiful, days are filled with excitement, and cultural encounters are all brand new.  
At HF Holidays we make planning big adventures a breeze. From start to finish, we cover all the details; from travel and accommodation to knowledgeable local guides and amazing experiences. 
Here are just a few of our favourite destinations for a once-in-a-lifetime holiday. 
From tech-fuelled Tokyo to Kyoto's ancient zen gardens and shrines, Japan is an enchanting year-round destination. It's especially delightful when cherry blossoms decorate the tree-lined paths in spring, while autumn's show of reds and oranges as you speed through the countryside by bullet-train is mesmerising.  
Bucket-list experiences  
Staying in the hot spring village of Yudanaka Onsen, home to the famous snow monkeys bathing in the steaming hot springs. Here you can stay in a ryokan – a traditional Japanese inn – which will bring you closer to Honshu's heritage. In contrast, enjoy Japan's modern side on full display as you explore the bustling bright lights of Tokyo and Osaka.  
Our Walking and Sightseeing in Japan holidays bring you one step closer to understanding the culture of this much-fabled land of samurai, sake and haiku-inspiring scenery. 
Travelling around Thailand promises rich cultural adventures. One day you can be elbow-to-elbow with fellow foodies at Bangkok's bustling street food stalls, and the next you can be drifting downriver on a bamboo raft in Chiang Mai. Our Discover Thailand holiday is all about introducing you to a destination of colourful contrasts and culture-rich journeys. 
Bucket-list experiences 
Weaving beneath the limestone, rainforest-topped towers and emerald waters of Khao Sok National Park never fails to impress, while taking a tuk tuk between Ayutthaya's palaces provides a snapshot Thailand's past.  
Thanks to heritage-rich cities, paradise islands and delicious food overflowing on every street corner, Vietnam is a favourite for many visitors to Southeast Asia.  

Bucket-list experiences

From a bike ride between the limestone karsts of Ninh Binh and a peaceful cruise through Hạ Long Bay, Vietnam offers a host of standout experiences. Weave through the narrow streets of old Hanoi while Hué's enormous UNESCO-listed Imperial City provides a fascinating insight into Vietnam's imperial past. Discover all these places and more with a Walking and Sightseeing in Vietnam holiday.
Few places on the planet rival New Zealand when it comes to natural beauty spots. Lovers of the great outdoors will be in their element here, where lush forests, waterfalls, vineyards, and long sandy beaches are all packed into the two islands, North and South.   
Bucket-list experiences  
Trekking (or tramping as the locals call it) sections of two of the country's Great Walks, cruising on Milford Sound, experiencing geothermal activity at Wai-O-Tapu, and spending time in big-name cities such as Auckland, Wellington, and Queenstown. Our Hidden Gems and Iconic Landmarks of New Zealand holiday also includes a chance to experience Māori culture with a typical hāngī meal (a traditional underground cooking method).
Adventure travel is at the heart of Nepal, home to the world's highest peaks as well as jungle-filled landscapes, golden temples, and world-class wildlife watching opportunities.  
Bucket-list experiences 
Our walking holidays in Nepal take you along the Mardi Himal trail with an expert, local mountain leader. This lesser-travelled Himalayan trail east of Annapurna base camp ascends to heights of over 3,500m above sea level. Other incredible experiences include spending time in the capital, Kathmandu, watching the sunrise over the Himalayas, and spotting one-horned rhino in Chitwan National Park.  
Kazakhstan & Kyrgyzstan Adventures
Still relatively off-the-radar when it comes to bucket list destinations, Kazakhstan and neighbouring Kyrgyzstan surprise with its standout walking opportunities. You'll find alpine lakes, sand dunes, frosted peaks, steppe grassland plains, and gorges all within easy reach of one another.  
Bucket-list experiences 
Our Kazakhstan & Kyrgyzstan Adventures have plenty up their sleeve when it comes to adventure. Walk to the Singing Dunes in Altyn-Emel National Park, trek to the spectacular alpine-like Kolsai Lakes, and discover the fairytale Skazka Canyon. Meanwhile, exploring the city of Almaty brings you closer to Kazakh history and culture. 
Few places on the planet turn heads like Patagonia does. This raw and untamed desert spans a vast stretch of barren wilderness where silence reigns supreme. It's filled with natural wonders and national parks that'll captivate for long after your journey's finished.  
Bucket-list experiences 
Our Walking in Patagonia holiday takes you to the far reaches of South America to discover a landscape so iconic, it spawned a world-leading walk wear brand. In this one-of-a-kind corner of the globe, you'll spot Magellan penguins, rheas, guanacos, and condors, spend time in the lively Argentine capital Buenos Aires, and get up close to the mighty Grey Glacier courtesy of a boat trip.
From the vibrant and salsa-loving capital of Havana to the tobacco fields and rainforest of the Viñales Valley, Cuba packs in a glorious variety of natural wonders and cultural thrills. 
Bucket-list experiences 
Old Havana has been awarded UNESCO World Heritage status and wows visitors with classic 50s cars, Art Deco buildings, avant-garde street art, and lashings of faded grandeur. Out in the countryside, Viñales steals the spotlight. This rural stunner is all steep-sided limestone hills (known as mogotes), sun-browned tobacco fields, and cigar-chomping farmers who use oxen carts over classic cars. See it all on our Highlights of Cuba holiday. 
A stunning land where desert sands meet the sea, this southwest African country is packed with once-in-a-lifetime experiences for adventurous souls, making it a serious contender for a top bucket-list travel destination.  
Bucket-list experiences 
You can step foot on sky-high sand dunes in the world's oldest desert, Namib, admire some of mankind's most ancient cave paintings in the desert at Twyfelfontein, and search for the world's largest population of wild cheetahs all in a single trip. Our Wildlife and Dunes of Namibia holiday also features a walk through the 'Boulder Forest' in the Erongo Mountains.

All destinations featured are included in our carefully-curated itineraries. We offer a fabulous selection of other worldwide holidays, all of which promise excellent walking and sightseeing opportunities. Please note, all itineraries are subject to change.  

While we run trips all over the world, walking holidays in the UK are our bread and butter. If you prefer to stay a little closer to home, try a break from one of our 16 country houses.